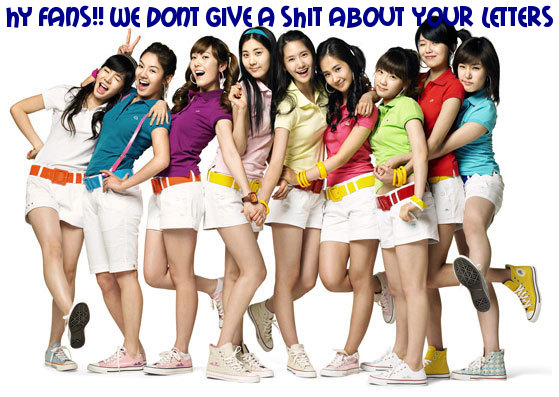 Side Note: Look at Bitchanny on that pix (shooks head)
*sarcasm mode*
Yes, yes. The title says it all. This news moved me. I cried when I read this.
Let me show you how the SNSD girls show back their "undying love"
to the hopelessly devoted fans who have sent them a lot love letters.
Awwwwwwww, how sweet is that? I'm jelous...
Lucky fans!
Crime Scene Investigation
Date: July 4, 2008
Location: Rubbish bins, KBS2 building.
Evidences found at the crime scene:


Edit: in case some of you might not heard of it ..
Before SNSD "Tell Me" performance, some fans got a hold of SNSD members and gave them their fan letters (on the pictures it's Yuri holding the said letters) after the performance fans rushed in the dressing room in a hope of getting the final glimpse of their so called "idol" and it turned out, they were already gone! Fans roomed around the place in the hope of finding something of SNSD, and lo and behold, found their own beloved love letters in the trash can, with spits and water/tea spills all over it!
Please have this in mind .. that these fans are hardcore SNSD fans, and have followed them all over the place! One of which is a hardcore Tiffany fan, who was even told to "get away" from her personally by Tiffany! That's why it was such a big deal to them when they saw their letters been treated like that .. so they flooded the SNSD fan forums trying to share their pain with the rest of the fans! So many people later tried to save SNSD coming up with pathetic excuses, some called the act upon SNSD ANTIS some blamed the cleaning lady, as if she only cleaned SNSD dressing room that day? even Soo Youngs mum wrote on the fan cafes, called the event "unfortunate" and did her best to reconsolidate with the fans around the issue!
Last edited by Bento_box on Sat 31 Jan 2009, 7:46 pm; edited 6 times in total