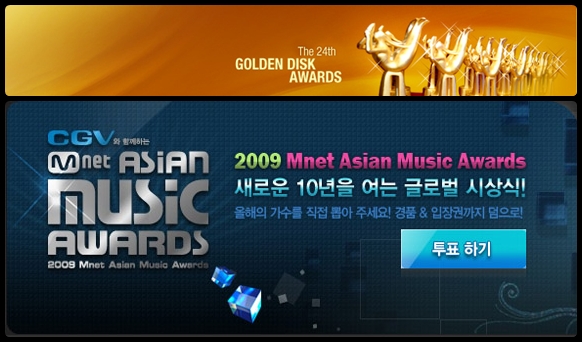 They spent what's left of their money on MBC and the Golden Disk Awards.
Claimed to be Korea's "Grammy Awards", the Golden Disk Awards is supposedly the
most accurate and prestigious
out of all year-end music awards show. It also boasts of "
fairness
" in the "
recognition of popular singers and talented musicians
".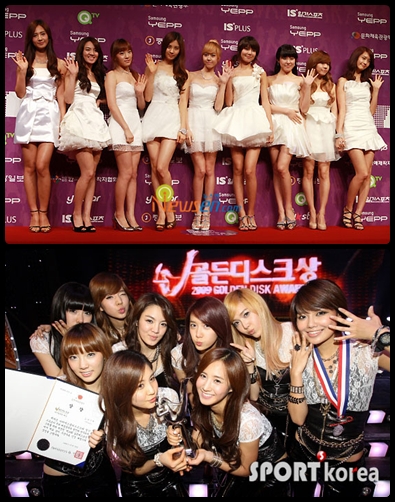 As such, it really is no shock to us all here at STAND that SM Entertainment is more than ready to try to "rescue" SNSDs tarnished image last year by spending money here and there under the table for their benefit and have them "win" the Digital award for "Gee". Don't you just love it when numbers can dictate the numbers in votation and awards?
In addition, it's interesting to point out that the Digital Daesang Award (like a Best Digital Music or something to that effect) includes 60% on the amount of mp3 download for the period of time the music was released, and also BGM, mobile phone ringtones, 20% from the judges and 20% from popularity votes. With that much requirement in downloading, you can just wonder how much they were willing to spend to win the award. Economical recession... legal controversies (with contracts, etc)... you do the math. [Oh, almost forgot. If their fans could buy 10 albums at a time, downloading shouldn't be a problem, ne? It might not be so surprising after all.
]
We do have to give SM credit though for trying so hard to make themselves out to be "honourable" by insulting the channel that most likely gave their artists the most exposure (MNET) by boycotting their event, using SNSD as the reason. Being treacherous and conniving takes a lot of effort and hard work I'm sure. It's just a shame that SM made things obvious last year that they had some "pull" in the GDAs by giving Lee SooMan an award despite their extremely strict rule of "Don't show up, Don't get an Award". For the record, Lee SooMan was in New York and won the "Best Producer" award.
It is also quite an interesting piece of information to note that no YG artists were present, and even if they did win anything they would not receive an award since they weren't there. Still... the "fairness" that they claim may very well just have ended in the nominations.
There was also another piece of news circulating that SNSD were the group with the most impact in the year 2009 (an
SNSD fever
, as they claim... more virulent that AH1N1 that it's killing KPop), seeing as the news is from an entertainment segment on MBC, the channel that has replaced Mnet as SMs dogs... it's not even worth discussing.
Thanks to halmouni Bento_box who I collaborated with on writing this article.