Seems as though netizens (who I love) have been recently getting offended by SNSD's album cover. Why you may ask? Well check this out:
For those of you who are savvy on your history (Korean history to be exact) the Airplane is an exact replica of the Japanese WWII Zero-zen fighter that the imperialist Japanese used to make kamikaze attacks! The only thing lacking is the Japanese flag!
Wow, not only is SNSD stupid, so is their management (but we already knew that).
Some netizens commented that "As the nation's representative idol group, they have hurt the feelings of Koreans", "Not just the fighter plane, the marine uniforms that they are wearing reminds one of the Japanese imperialism period." and of course stupid sones as usual will even compromise their race and morals to defend them "This is the fault of the album cover designer, SNSD has done no wrong." (We're not blaming SNSD, but this is still very wrong)!
SNSD's PR admitted that the plane bared similarities but refused to outright admit that it is a replica (of course).
SM commented, "The album cover for SNSD had been designed based on the marine girl concept, there's no hidden meaning to it at all."
South Korea is still hurt over WWII, how could they dare to be stupid enough to have a plane that remotely looks like the zero-zen fighter being Korean themselves? Why would a Korean group even
want
to use a Marine/Air force circa WWII theme for their "comeback"? Why!?
Seriously is SNSD's management striving to make them even more hated?
Are SM insinuating in any way that they don't even screen the progress of SNSD's "comeback"?
It's not even an amateur mistake, with any/every product that you release it reflects directly upon your company. Duh. Thus, SM must and will have to OK and stamp on every piece in order for it to be on the market. It bares their name and the reputation with it. Not forgetting the money from the shareholders.
For them to claim that it isn't a Japanese zero-zen air-fighter, they're claiming that something
so damn obvious
was made to go under their radar, or that they simply don't find it worthy of any bother.
So, um, all that violent history of constant war, assassination of your Royalty, enslaving the people and occupation goes down the toilet cos SM finds it OK to have the word "SONE"... ON IT?!
That in itself has insane connotations of Sone conquering your land, which to me is quite baffling.
That plane is on every cover we've seen so far, in the same place, the idea that its a phallic symbol hasn't passed us, nevertheless the "offence-meter" with this one goes through the roof.
We dont care who is to blame, just friggin change it. And while you're at it, change their name.
Oh, and aren't they representing Korea with the KTO? Cant they're company pay some attention to actually "representing" their Country correctly.
P.S. The missiles don't go unnoticed either.
UPDATE:
Seems that the release of SNSD's 2nd mini album will be pushed back from the original date of June 25th to 29th of June.
And we quote:
SM Entertainment said, "We have plans to eliminate parts of the album cover, like those of the military icons, which had led to many misunderstandings and misinterpretation lately. We will take out the problematic parts, and will replace it with super sonic training plane T-50 developed by Korea."

Their comeback stage on the 26th will still go as planned, which makes one wonder as to WHAT concept SNSD will be taking after all the controversy their "Marine Girl" look has received. This time, its not just Korean netizens, but Japanese netizens who are picking SNSD's concept apart equating their uniforms with, lo and behold, the Nazi regime.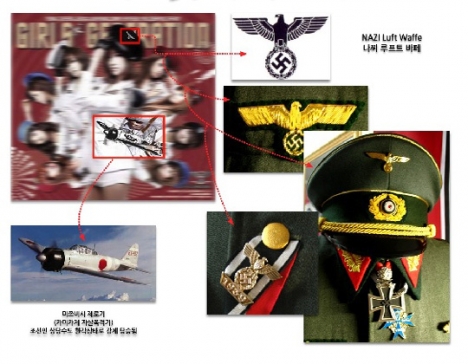 Netizens have even went far as to call SNSD "
war crime shi dae
" and not anymore "
So Nyeo (girls) Shi Dae (generation)
". Such examples for the youth, indeed.
We'll just have to wait and see how far SME is willing to take this OFFENDING concept, as they still insist it was not intentional.
Last edited by Bento_box on Tue 23 Jun 2009, 2:13 pm; edited 11 times in total