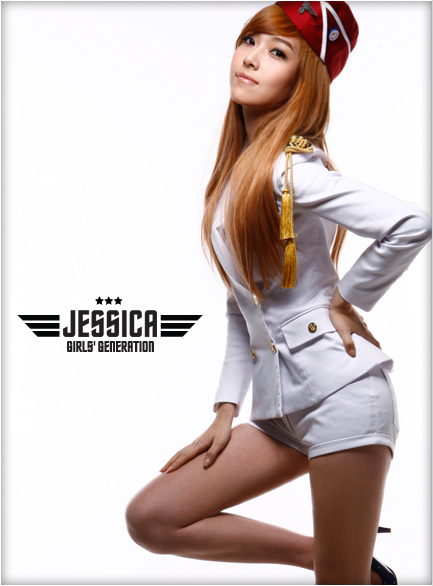 "Lap Dance, sir?"
No thanks.
That picture of Jessica pretty much sums up this new "image" for SMEs
"Girls' Generation"
. SME prides itself in being coy with their fans, somewhat staying aloof and allowing the artists to do their "fanservice". So, you necessarily wouldn't see a song title named
after
the fanclub, unless of course the Fanclub was named
after
a previous song title. Having SNSDs FC name in the title here clearly shows their desperation with this one.
With all the new girls groups debuting and getting popularity fast, what have Soshi, or more
in
apropriately for this situation, "Girls' Generation", have to say to their ajoushi fans?
Tell me your wish!!

It's not a joke. It really isnt... I guess they'll do "anything the Ajoushi fans wish for" to hold on to them.
And to add on to the seriously shoddy work with the old men behind the scenes, how does "Marine girl wear + Genie + Candy" work together? What's with the confused theme? Mind you, it's pretty much something you would think up while seriously drunk, and I guess that Soju was the brainchild for this dirty concoction. Oh Yoona, such a bad influence on the SM execs!
And damn, what a cheap looking teaser.. And by "cheap" I mean, its pretty much what a "StringFellows" advert would look like, which is a British strip-bar. And with the slogan "Tell me your wish"... well.. it pretty much cements it. I wonder if they're parents had any idea all those years ago that their daughters would be cavorting in short shorts, sucking on lollipops, shaking their hips and looking like strippers, selling their bodies for all their worth...? Which apparently isnt much.
I think it's time to finally stamp a label on these girls and officially declare them unsuitable for minors, or as Papa LSM would have it,
"30 and over only, bring cold hard cash, NO CREDIT!".
It's time for a name change SME, this is offensive on so many levels. It's not like the previous images weren't bad enough. I fear the full Music Video with this teaser, what with the rumored "bed" set and the also rumored "fake cake" set, this looks to be soft core porn for daytime apparently.
Spoiler:
________________________________________________
credit to Key@STANDcafe for pics
Credit to Jaejae19@STAND for the headsup for the "teaser"
Last edited by Bento_box on Fri 19 Jun 2009, 12:41 pm; edited 2 times in total