This week's MUBank showed Super Junior win after 1 year and 6 months with their new song "Sorry, Sorry" .
<object width="425" height="344"><param name="movie" value="https://www.youtube.com/v/V0sv3Bm3ftM&hl=en&fs=1"></param><param name="allowFullScreen" value="true"></param><param name="allowscriptaccess" value="always"></param><embed src="https://www.youtube.com/v/V0sv3Bm3ftM&hl=en&fs=1" type="application/x-shockwave-flash" allowscriptaccess="always" allowfullscreen="true" width="425" height="344"></embed></object>
But what the heck is this??
SNSD gets second place??? It's bad enough that SNSD
takes over Super Junior's encore stage
by singing "Sorry, Sorry" while the boys compose themselves after that teary thank you speech, but to actually have them still at #2 at MUBank? Davichi won last week in MUBank... do I sense another paycheck from SME?
From mnet chart, cyworld chart, even melon, SNSD's "Gee" highest rank is at #5... so where did the #2 slot come from?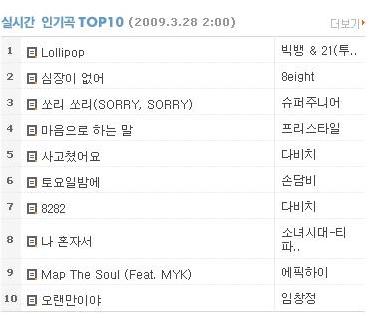 Now some might ask, if Davichi is in #1 at those charts above, how come Suju won #1?
Simple answer, it's MUBank's
MONTHLY
award, where they tally out the votes at the end of each month (
thanks for the tip, Angela~
) ... so in effect, Super Junior just beat SNSD's nine-week win~~ "Sorry, Sorry" just came out two weeks ago and has yet to win on MUBank's weekly chart...
But again we go back to the original question... SNSD is #2????
According to Hanteo monthly chart dated 2009.03.20 to 2009.03.26, Super Junior is #1 and Seo Taiji is #2... That covers MUBank's list...
And where is SNSD?
They are at
#10
on the monthly chart
Way to go SME~ No wonder you are going into deficit........
Last edited by queenbee on Fri 27 Mar 2009, 2:10 pm; edited 1 time in total