March 8, 2009, Kara's "Honey" again won #1, this time in SBS Inkigayo show.
As soon as the winners were announced, Kara were shocked and happy that, Nicole, who was asked to do the speech was momentarily speechless in the beginning.
<object width="480" height="295"><param name="movie" value="https://www.youtube.com/v/VsTP_6Ut0Ss&hl=en&fs=1"></param><param name="allowFullScreen" value="true"></param><param name="allowscriptaccess" value="always"></param><embed src="https://www.youtube.com/v/VsTP_6Ut0Ss&hl=en&fs=1" type="application/x-shockwave-flash" allowscriptaccess="always" allowfullscreen="true" width="480" height="295"></embed></object>
But what the heck was that at the right side of the screen at
0:37, 1:24,
and
1:37
??? SNSD girls dancing... and what step was that supposed to be? It's surely not Kara's "Honey"... now why would they be dancing a choreography which is not of the artist who won (and who is CURRENTLY doing their thank you speech)?
Upon closer inspection, it appears that SNSD (Hyoyeon, more enthusiastically) were dancing the latest dance steps of Super Junior's new song "Sorry, Sorry". And before Delusionals go with the usual attack of,
"OMG! Just admit you like watching our girls too much by seeing even the smallest detail and blowing things way out of proportion!"
... umm.. DUH??? Delusionals are spazzing all over the place of how "cute" their "girls" are by dancing Super Junior's new choreography.... =__= SMTown love my ass... how about showing some respect to Kara first, you morons?
While Nicole and Gyuri thanked their Shindong-"sunbaenim", the so-called dongsaengs of Suju - SNSD - were at the side egging fans in front to dance along to Suju's choreo... how
RUDE
!
How hard was it to just smile and cheer for the winning group??? Other artists on the same stage managed to do it, why couldn't SNSD just clap and cheer for Kara's win?
Hyoyeon, just because SBS Inkigayo has a rule of maximum of 3 wins which automatically took you out of the nomination, doesn't mean you need to STILL steal the limelight from the other winners.
Leeches will always be LEECHES.
Kara won and took center stage... but what do you guys do? Try to grab attention by dancing the steps of THE MOST anticipated comeback of the year (and I don't mean "gee"...)
Super Junior is making their comeback next week, and as early as now, you guys are already trying to ride along the bandwagon.
And I though you and Yuri were one of the "better" members of SNSD...
DISRESPECTFUL LEECH!
UPDATE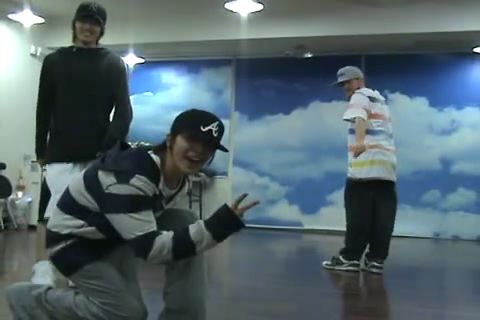 Just in case you guys are wondering, the guy in stripes is one of the choreographers for Suju's new song "Sorry, Sorry" - same guy who did choreography for Justin Timberlake, Usher, etc.
The significance?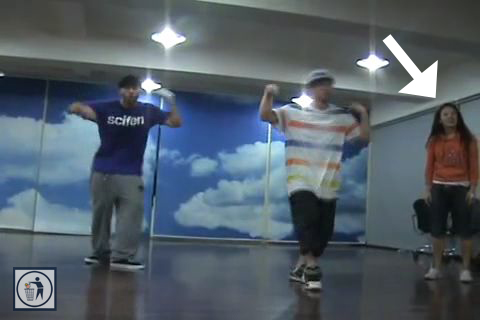 Yep... that's Hyoyeon in the ugly orange sweats... perhaps she couldn't resist seeing REAL DANCING from these talented gentlemen as opposed to the "seizures" her own group does in Gee...
Now we know why she seems to be so "excited" to show off... she was in the practice room with them! And here Delusionfuls say SNSD are very VERY busy promoting... Hyoyeon looks busy alright... busy with her mouth hanging open~
Now why is it that Leeteuk and Eunhyuk restrained themselves from going full out on showing the dance steps to their fans but SNSD are going at it during SBS Inkigayo right during Kara's speech?
<object width="425" height="344"><param name="movie" value="https://www.youtube.com/v/NfBlxulls3c&hl=en&fs=1"></param><param name="allowFullScreen" value="true"></param><param name="allowscriptaccess" value="always"></param><embed src="https://www.youtube.com/v/NfBlxulls3c&hl=en&fs=1" type="application/x-shockwave-flash" allowscriptaccess="always" allowfullscreen="true" width="425" height="344"></embed></object>
thanks for the update evile-oppa~
Last edited by queenbee on Thu 19 Mar 2009, 5:19 am; edited 7 times in total