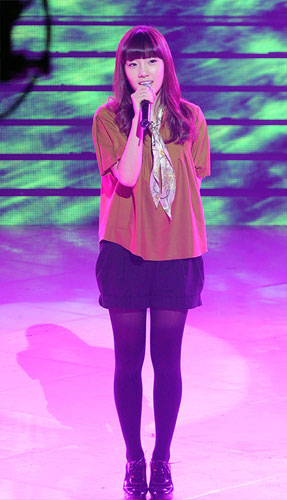 Last 12th of January, SNSD leader Kim Taeyeon made a number of tactless remarks on live broadcast radio which included
questioning the professionalism of nurses and doctors
as well as
making a racist comment on RnB singer Alicia Keys
. Full details can be found
HERE
On that day, nurses and doctors flooded Chinchin radio with complaints which prompted Taeyeon to give out an "apology" at the end of their broadcast with words of
"I'm sorry... it's MY fault that I am sick."
making the netizens more disappointed with the diva-esque attitude of the SNSD leader.
An apology was released by SM Entertainment a few days after in hope of minimizing the ensuing uproar and that the issue would finally die down. However it was not enough.
After a week of backlash coming from irate netizens, she made a public apology during Chinchin on the 19th with these words:

"Last Week I was sick and I didn't think about the opposite when I said some things. I am really sorry if my words were wrong and have hurt you. I am going to try being more careful and thinking about the opposite."

"I said it in the opening before but I want to apologize for my mistake last week. I think that I hurt many people and that many have thought that what I said was wrong. I feel immature about that."
And this coming from a supposed "leader" of the "Girls' Generation". She then admitted in her own apology that she didn't
think
, didn't bother with
consequences
, and is
immature
.
Thank you for THAT apology Mr. Tae... but after the "apology" you came up with last 12th, and the apology SME came out with a few days back, this apology now looks like a piece of scripted joke. And yes, a LOT of people did get hurt and offended with your tactless remarks, you don't have to THINK that... they got offended simply because you made a stab on their professionalism. Though I think you have no idea what the word
"professionalism"
is right now, considering the way you act as a "
leader
" and as an "
idol
". And why take
one entire week
to come up with an apology? That's not very professional, considering the numerous news and comments which spread out like wild fire regarding the issue.
It's not really surprising it took you this long to apologize since as far as I can recall, you and your group had never apologized for anything. That so-called "apology" after DC does not count because it was directed to your fans, not to the people that really got hurt during the concert.
And let me remind you, Kim Taeyeon, you still owe BILLIONS of people (an entire race, in fact!) an apology with that tactless,
racist
remark you made.
Ignorance
has never been an excuse. No matter how much your Delusional fans translate, re-translate and redefine your comment, it still was,
IS
racist.
For your fans to say that the comment
"For a black person... Alicia Keys is pretty"
is NOT racist is bullcrap... it's just like us saying
"For an SNSD member... Seohyun can sing"
... let's see your delusional fans accept that.
Last edited by queenbee on Tue 20 Jan 2009, 3:27 pm; edited 2 times in total